Ideas

1. AV drivers, created in dynamics, save the queue, when connection is restored they send all accumulated data into the net. It can be possibly corrected with switching a definite parameter when a driver is created. What parameter?


2. On trends and panels with data the status does not change when the connection is lost.


It would be good to change the looks of a itemn if data don't come to it, for example, they can become black and white or shaded or marked with an exclamation mark in the corner.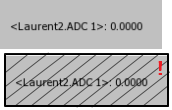 .


Parts of trends when data were not written in the bases should be marked to see when there was loss of connection or any other failure. It can be marked with shaded area.