Ideas

Hi,
Make a project, and save it.
Open the Graphics Gallery, en drag & drop the project to the Gallery (to include the complete project in the Gallery).
The Studio is asking for a Preview. If you don't select an existing preview, a strange Russian text is used as Preview.
This is not clear for not-Russian installers; please use a English text or a simple image.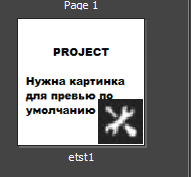 Thanks
Theo