Questions

Hi,
I'm adding timed events based on the local daylight times to a project, with the ability to use an offset for these events.
Reading through some similar topics, I have found that you do not natively support this, so I have added this functionality through scripts in the following way:
To get the sunset time in the scripts:
Created a schedule, 'Sunset' that begins at sunset and ends at sunrise, repeating every day.
Created a routine, 'Sunset'... WHEN 'Sunset' starts, THEN send_tag (System.Date.Day -> Sunset_Alert)
This channel has a script modifier that sets a tag with the current time when called

The same was done to get sunrise time.
I have left this running over the weekend to populate the server tags with the current sunset and sunrise times before I implement the timed events functionality.
The sunrise tag has correct values, while the sunset tag is still blank.
Looking at the server logs, I've noticed the following
I see the following each time it is sunrise, which correctly sets the sunrise time

[08-03-2020 06:07:00.002] INFO State of event 'Sunrise' has been changed to start
[08-03-2020 06:07:00.002] INFO SCRIPT Sunrise set to 6:07
[08-03-2020 06:07:00.002] INFO Routine 'Sunrise' has been activated
[08-03-2020 06:07:00.002] INFO State of event 'Sunset' has been changed to finish

I do not see any other mention of 'Sunset' in the logs.
I have tested changing the channel 'Sunset_Alert' from the web interface - the script modifier is correctly called.
Below is the schedule and event for Sunset that I have, can you see any reason why this may not be working?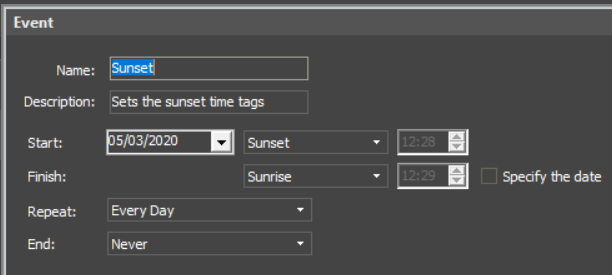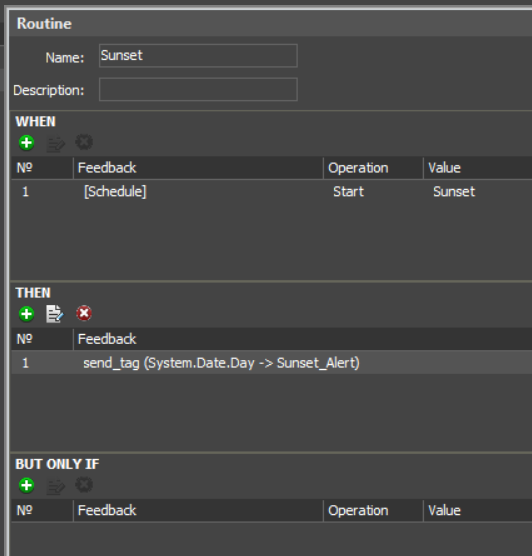 Kind Regards,
Dan