Welcome!
On this forum you can discuss iRidium with other users. iRidium consist of 2 main components - i3 pro app and iRidium Server. Please post here your questions, ideas or errors you find.
Please send your questions to support team as a private messages.

Hi,
Create new project
create 2 buttons
Select them both, and lock them
Click outside the buttons, so un-select them
Select them both again, and right-click mouse.
Watch that "Lock" AND "Unlock" are active --> which is not correct.

Please fix.
BTW: this is the same (not good) situation when you Group buttons....
Thanks
Theo
Hello,

It has been implemented from iRidium Studio 1.0.0.18317

Hi,
Can you explain the function of "Gallery Template"?
We can't find the way how to use it..

Thanks
Theo

When we choose in Studio for Tools, Default Panel Sizes, there is a panel displayed: Blocks.
What is the function of this panel?
Thanks

Theo



*.siprz on Windows 8.1 is not opening by default in iRidium Studio. Trivial but annoying
Please add this default in the installation :)
Thanks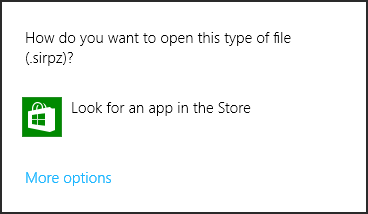 Hello,



I use

the server (for test) with a

i2control

client

and with a

KNX

driver

.




And

with the server

it's OK for

the KNX

driver

(commands

and

feedback

).


Thank you
to answer these
questions,
I would like to
move forward on
the

server

test project
(data base)
with a
panel control project
(
i2control).
1-
In the documentation

it writes (see above)

: Virtual variables are available for editing from a control panel.

You mean

from a control panel in the

Studio

development tool

?
I understood

that the

Virtual-

tags

could

be changed

from a

control panel

(

i2control).

It is not the case ?



2-
The

Virtual-

Tags

variables

is

the database

on the server

?



3-


In I/O and Virtual-Tags:
This point is not clear and is not explained.




What does the "Persist"?
In French is thought understand: a saved data. It is not in your document

To save a data in the database must select only the data type "Stored In DB" ?


Or also I have to

put P

ersist = Yes

3-


Is it possible

to transfer variables

from

the database

(

Virtual-

Tags) to a

client application

i2control ?




Is it

possible to

transfer data from

a client application

i2control

to

the database

(

Virtual-

Tags)

server ?



And
if yes, how
do I
transfer the data
?
Thank You
Best Regards
Patrick

Hi
http://support.iridiummobile.net/topic/819092-otladka-servera-logirovanie
I cannot find what is described in the article above to adjust the server logging levels
Please tell me where to look to find these settings, am I in the right version?
Version 3.0.0.18068
Eg
1. Panel project Settings: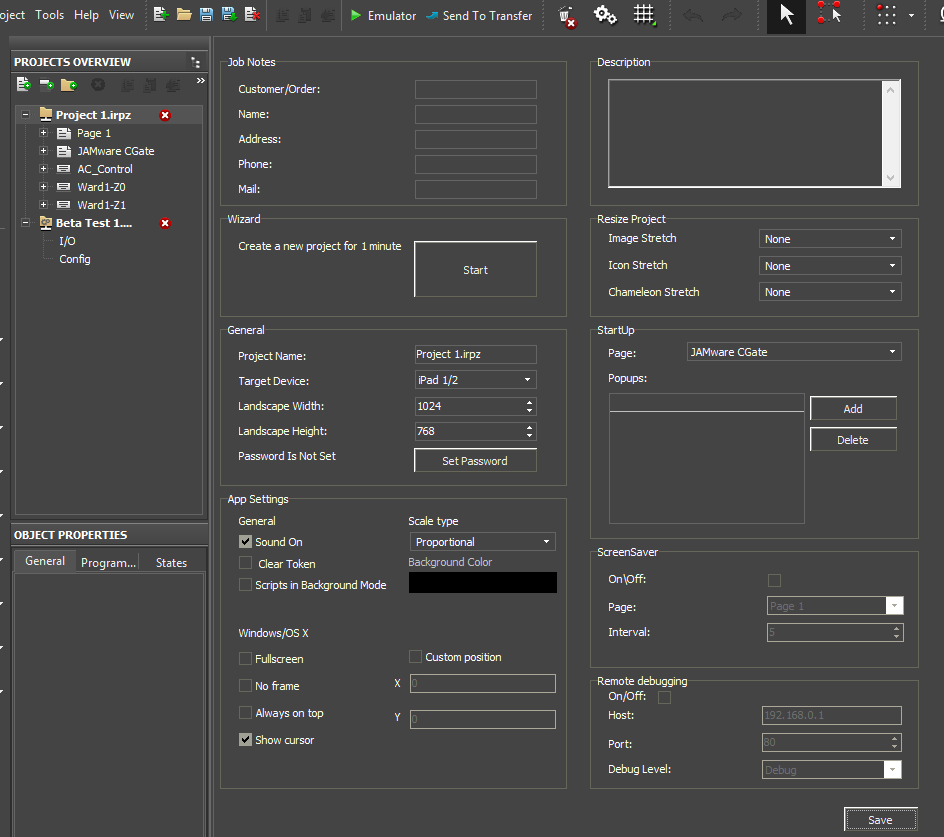 2. Server Project Settings button is disabled
3. Panel project driver properties: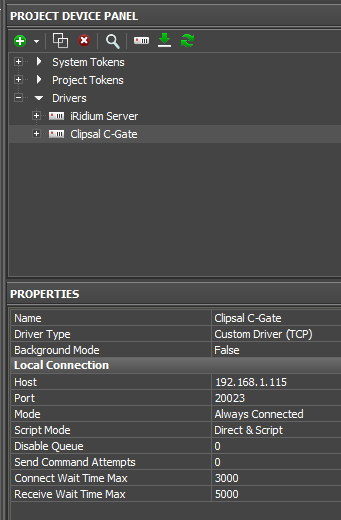 4. Server project Drivers


Log level can be changes in several ways:
1. Setting in iRidium GUI Editor (Setup of system logs)
- Click Settings

- You'll see the following in the window that appears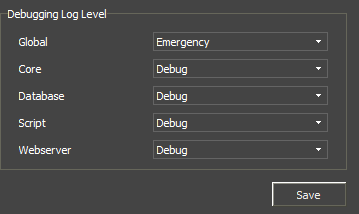 In this window you can change settings of the system log level.
2. Setting in iRidium GUI Editor
(Driver system)
- Every driver has its own system log level. It's located in the driver settings.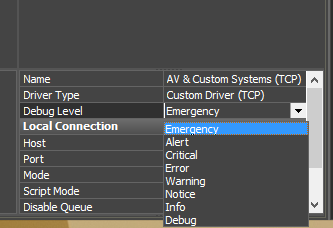 In this window you can change settings

of driver logging.


The idea is ether to add fields that can't be edited that display 2 and Free styles for 3-level address or to show in the editable parameter for KNX IP Router -> Group Address Styles.
| | |
| --- | --- |
| 3-Level; | 2/2/2 = 00010/010/00000010b |
| | |
| --- | --- |
| 2-Level; | 2/514 = 00010/010 00000010b |
| | |
| --- | --- |
| Free-Level; | 4610 = 00010 010 00000010b |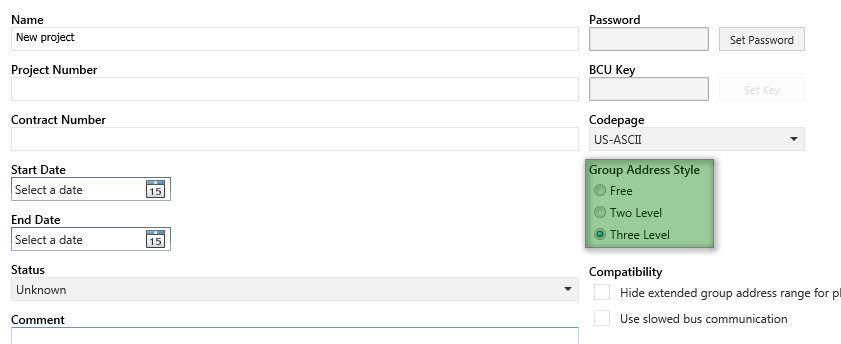 A project can be switched between levels 2 and 3 in ETS. But if it is FREE, one has to think that 2/2/2 has to be sent to 4610 address.

Hi,
When importing .knxproj-files in iridium Studio, commands are visible in 'Feedback' tree and feedbacks are visible in 'Command' tree.

And example:
A command to switch on/off a light, is also visible in 'Feedbacks'.
A feedback to show the temperature from a Weather station is also visible in 'Commands'.

It takes much time to cleanup all these wrong imported items: installers have to delete manually all feedbacks that are visible in 'Commands', and remove all commands that visible in 'Feedbacks'.

We expected this was fixed after 4 years of experience with KNX...

Please fix.
Thanks
Theo

Hi team, happy new year. A new year is coming and a new idea is coming too.
When I convert an old project into a new iridium panel project all the drivers will be lost, all the associations will be lost because if a put all the old driver in the server project the name will change. It would be a good idea if you create a simple tool to export old drivers (all togheter) into excel format from the previuos version and import the same file modified (users will made all the changes they need in excel, more easy) and then read the drivers from that excel table. This will be very useful when you have many drivers and associacions. Or if for you will be more esy done this directly in iridium, but I think is more difficult than using an excel table, like the one used to import modbus register already done. Sorry for my explanation but if you need more detailed info, fell free to ask. Best regards, and happy new year.

Подскажите по драйверу modbus tcp server (порт 502).
С учетом выхода iridium server получается есть два варианта настроить подключение панелей iridium к iridium server'у:
1. Связать проект панели с проектом сервера, подключение панелей на порт 30464 сервера.
2. Использовать компонент modbus tcp server на стороне iridium server, а на стороне панелей поднять modbus tcp master, которые и будут связаны с сервером через порт 502. ИЛИ это не возможно?