Welcome!
On this forum you can discuss iRidium with other users. iRidium consist of 2 main components - i3 pro app and iRidium Server. Please post here your questions, ideas or errors you find.
Please send your questions to support team as a private messages.

I suggest work of Emulator without licensing. It confuses everybody. Maybe it is better just to limit the connection time - for example, after 15 minutes of work Emulator disconnects and you need to start it again. 
Hello,
It has been fixed from i3 pro 1.0.0.7903

Please add more tools on the toolbar to draw simple lines (————————–), circles O, etc. Now only 1 object can be draw. Maybe it's also to add a 'free draw' option?
Theo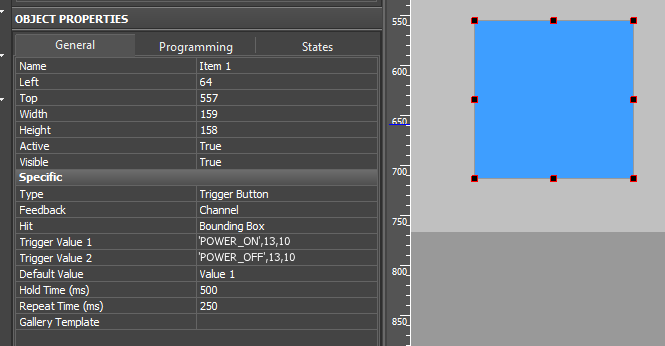 Could you please do that in i3 pro
It would be good to set the angle property of an object in the gui editor, so we can rotate objects by default.

Thanks

The logger is a great thing to have. But if you could implement highlighting of messages in it, it would be perfect:
- errors and warnings - RED
- user messages - BLUE
- service messages - BLACK

For the moment of writing this comment, I found by testing that the buffer tool for images (posibly for other files) in i2Control is as follows: when the total size of all files reaches some particular maximum, the buffer clears itself. It causes problems with displaying uploaded images. If there is such a possiblity I would like to request more advanced system for processing cache, for example cache queueing when old items are removed by the
FIFO
principle First In — First Out. And there is a rule: "what is on the visible part of the screen has to be displayed (uploaded, if there is not such at the moment)". I really hope that this tool can be implemented in iRidium.

Can we please look at reducing the time it takes to
1. save and run the emulator (by the way this should not say 'save' as it is not saving)
2. save and send to transfer
3. save the project
Why does it needs to save before running the emulator or sending to transfer?
On a reasonable sized project this can take 30-40 seconds. This is way too long. I use other professional programming IDE's and they do not take this long for similar sized (MB) project
This is a major frustration

Hi,
When installer scan the Domintell-bus, the description from the Domintell-commands and feedbacks are NOT imported in the GUI Editor.
The installer has to manually edit all descriptions of commands and feedbacks, and this take lot of time.
Please improve the scanning of Domintell-bus, so the names of the commands and feedbacks are displayed correct in the Project Device Tree.
Thanks
Theo

Hi
Duotecno is waiting for 2 years now for an promised feature: intelligent Drag & Drop.
This means: the installer select a node in the driver. In the node, several Commands and feedbacks are present: switch, dimm, temperature, etc.
With ONE drag & drop command, this 'node' is dropped on the group of items (switch, dimm, temperature buttons). This method saves the installer much, much time.
This feature is discussed and explained to Dmitry Shulgin and Anton Kamaev at ISE2015, and they know what Duotecno wants. They have all drawings how to do it, and in what way.
However, it's still not implemented in 3.0
Please implement this promised feature; it's usable for Duotecno installers, but also for HDL-installers.
Thanks

Theo